I am a programmer and a security and privacy enthusiast. Other interests include programming languages, networked systems, operating systems, AI and machine learning.
I currently work for Amazon. Before that I worked at a startup building scalable systems for identity verification software.
I've helped run a few Cryptoparties (Vancouver and University of the Fraser Valley) and am currently working on bringing the metadataless Ricochet messaging protocol to Android.
Me on the Web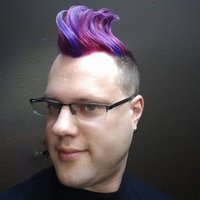 ---
PGP public key
-----BEGIN PGP PUBLIC KEY BLOCK-----
Comment: https://keybase.io/download
Version: Keybase Go 1.0.18 (linux)

xsFNBFh4V/sBEACs7pUHGDl3mG08eeTlQzTObVqM89jD2MU2cilyiXtO62PY2MfC
BersrBV4wzTwgOqnEyL1JEo3+SfFerRPbbckq0NgVIUxyb1l05vba/AIvBdvKLib
n5KRczH5Jsxv91eq/VGYhFUS3LnM7N1CEQunsT9fMOmB2/sSsgBE8DzqZboTgGx6
L8KNtjGZnDBGh7ZuwPVkHSolMJh+B7kzv5yovB7QuV6Uy5wtQUHqumLhSf69/Gvv
jbWCRZm++o/m94sAb11iWNiZOZcPFfE2EepgUqEjY834dYwrXTJEN+t3TR2LWDM5
0oDBVRJRE468UqFbXhVgXv7EwSmXazSIooGTAiX3AQE0iIe1TK2irkuaITXMUEHg
I+0oKNYZb9l4qABoOqEf7fMrlzNEHGb35nmbo9LSdJRT232t9RcuHuWet8Ix7d1N
uh1HqwKP29Q1yVcwF6E9Pm1r4LAFeE0nZfuk7jFZTS+EPOYfHJ+ipduus37WYcQg
BcY/RYX3dixxzzhSsLcCC3w2+8rqeCtHS5uxI3yVQ0kw/xNutw/e7g44UCE8ek5u
Sfo0bP5f+pDnlsqqLd53pzzi1TLxUCZ4wYn891KJPZalNAIlBmPf1snkdeQDCqOq
H8A+4VtEiim1/LAjqVKAYAxLanGM0lNd0CpU7yCpuGv4oOD/GeNI9yxTtQARAQAB
zR5EYW4gQmFsbGFyZCA8ZGFuQG1pbmRzdGFiLm5ldD7CwXgEEwEIACwFAlh4V/sJ
EL0fphAp3U0RAhsDBQkeEzgAAhkBBAsHCQMFFQgKAgMEFgABAgAAiTIQAJRHk5Ku
RRHXesH0moaEtX/aH2Jt0RCyFQ1Z79yRzQYL315+V1Lwxq1zm9BjACiW5OScicv7
hl/V5qjGjSq86H1QDldSS8PxpTUfvoZVAL++NrNA717gN8aZnt0uPg93mtnfZoMn
b5DI1raSe8DTnVAYBLFkzx2M1+OMtsrUS2FOVGAGNGsMaaDekJoZ8Z8dWdkDFgpL
LvTat7gu9L/VxtLFrhZOQyT07Gtf7HPAZJZ0cz+wqYlDVGFVIzXKOGk0Eg5zc0XO
EJpRaniRzPiU1qQ9QRB3DzB1dt/51y9O+bxizH3yD9zCikHJatexiYO1cTchdik9
ehrQab+89c/9Aru/NyBWYae0B1tyyqqW/Urzb3bMFt+VwMHZmG4WzXWpJIIrdUjb
Ut2KUl35/jqxfr0AZkO4/xhbfDdCk/S6YnPFo47cg91NVNT9WEcourxDQSaU31zV
uY8nuBL0aXZ1ZTjPneoVGIQUmoEzctfc0remkJS6jWrOcix27GRmiu4lIXmQD6uX
ALtqEIH28a4Ijln97BbtFdraQuLrOXHwYT/QsC4O3c2K2fEoOm+PiFt6SS0sPP5/
lEqamxL6hvoFSRRGhQiNnpCQI0QTrdl2SGRkyM3xxPau/vkIXP6EAhLXLmh5+pVS
3tc2PWcM2aMRKpRd0VnHXl0fyCNb7SldH87uzsFNBFh4V/sBEADFZTQMIFEwGK0A
4x5x0nk8bZhI/VWSwHxmgzmzdB88ineAZI2G3uRNgUxhNjMFgfFBz4af4k5MZuBC
fPPWXTIml9RFtiKU34/cVaAzFXn1Rboo2rUgF+o9s3qrW0WNjNjqey7x993GpdD3
Entgh+9Wkr8RQwze+tJLg549hd9daXY1BuH7QwvU1HEaj8prlndm51jU2Jqmd3AJ
folBXOm6BkP6HPX6MFRM0NIkWrkMKnuOpt+y9N5vuDCuYpegJ6YYLqSESRfYFGyQ
3j3dHAVRV1cOHN86rpbnAqySKfMmRMAxqATJZFUUdT9LN8yoXTFxXTPKZgPjBEb6
8bNq5aQS3g1XrDddoP8CHja6ygf9tFTHm1myZZvRd9qAMGdH2gWDfiDPVjxZ1/P3
KIVmO9e9j7rWpg+7PHE1f9phDK2g+1JyrsTYgEAhTq8X0xrklvPXDQ2MtSXh/yta
3z9cAWLtUNgmYVV9heqkq9vVbP5uROY+XfKzvr/DwHbZCxDg9BBsIGYFUwjlkydg
rKWkRl2exSndrnrr3xDmyFWlp0/kDyoc9Mt3l7+VcRp/6u70pijhBeLEa8TRnXon
ILJ3OA2pzA2/FSPjnfj7kd7/6rjkrVrxMHIw4x8j1arO0YUQa0w26X0s5F1jOBW4
aVs2qG5LtScxNpOUA2suIMbrxE0RwwARAQABwsF1BBgBCAApBQJYeFf7CRC9H6YQ
Kd1NEQIbDAUJHhM4AAQLBwkDBRUICgIDBBYAAQIAAJ2kEABzkb6CohlQXg5gXZ06
k8iPfu6za4WY0byh2o51GEtWRpj1+o/7L1Q6fs5nVUgM83ng/oT9b44lSvx+P/Cu
yINtLUCY21EK5shmzl9AWpZrIkndBuLPogqlMMVMCGxKQCiSYQcx6XnwR/pVekCI
5TnEDlM8k+MIQb1/2CJLV8SKdY56t2JgOtVKyoXznBbcI6+87E+AzSQyKpeAq8S+
6utIvwRGfDbF7HwTiV8WOiwcDD9+afPmEw2HK9PgRGwJyhJY2VFjYssx1ibLvrCT
KdylA5WKEsq9hB4Ivx+dH+hZz284uBv/t4Tnl85uxBbrZCiYd/JSH2jvNxg6gsCE
a8ykLop25l92nRbAcimLZ3UCYw+ETfXkB49jeXadDGYBLutbOuLjbNncyIX0T1sT
aJIgPT/+qJHdAyxF0lnF2uszaOaL2Wn1I8/3Hk2NS6Fsva4DdHb9bZm3jFDjEiZZ
szTJa5T76sTIA+bQ8gc1hRElDuTbyTtfVKJu+6Me0assPhc1nAr4B6rxqZUCeqqN
sTQ4b3w3gfEOF8Ck0P3VXYCHQziXknaEB64Hh5n+a5wPfLZ7iVI6wMysi5fP1xdv
LOHghSW5A9mfoineNaeJcpisinodkMxIywKU6jnGVk358KHPCE+EZ9zPFsJB/ke0
0hA91gLCnkyCJClbOXotQhaYgQ==
=Ibe3
-----END PGP PUBLIC KEY BLOCK-----